College of Policing Online Assessment Process Overview

Following the Prime Minister's announcement on March 23 and additional guidance introduced to keep our communities safe, all SEARCH and Day One activity has been postponed until 2021. As the COVID situation develops, it has become clear that digital solutions to police recruitment would be required.

In response to this, the College of Policing has developed an online assessment process that enables effective assessment of the required competencies and values that are important for Police Constables and meets the current standards for assessing new recruits.

To ensure consistency and fairness to candidates the online assessment process will remain in place throughout the remainder of 2020. As part of ongoing monitoring and evaluation, the College will continue to review the candidate, assessor and force experience with a view to enhancing the process during this period. A full review will take place later in the year and forces will be notified in advance of any reintroduction of face-to-face assessment centres.

The new process will enable rapid recruitment without face-to-face contact while social distancing measures are required. It will also enable a secure online assessment to be part of an efficient and user-friendly candidate journey in the future. The process incorporates a progressive sifting approach to effectively identify those most suitable for the role of a police officer.
The online assessment process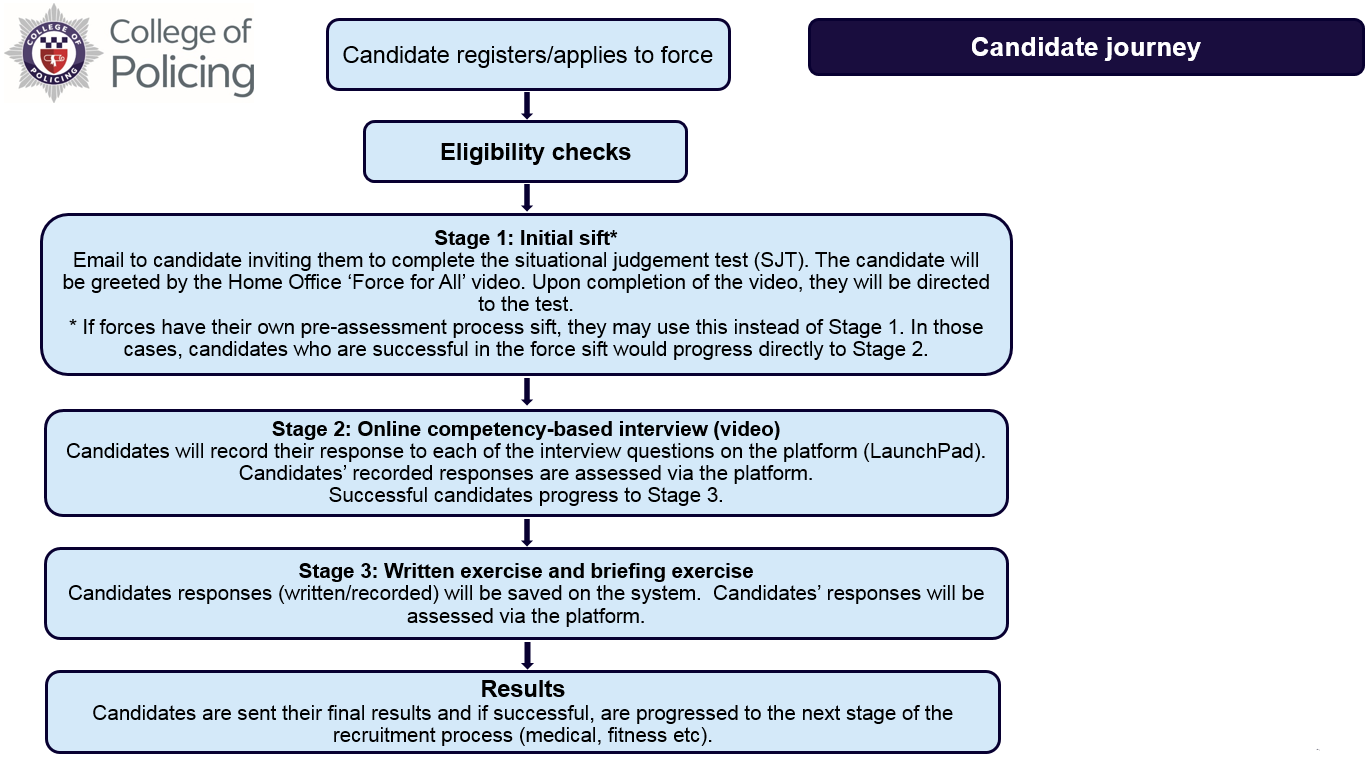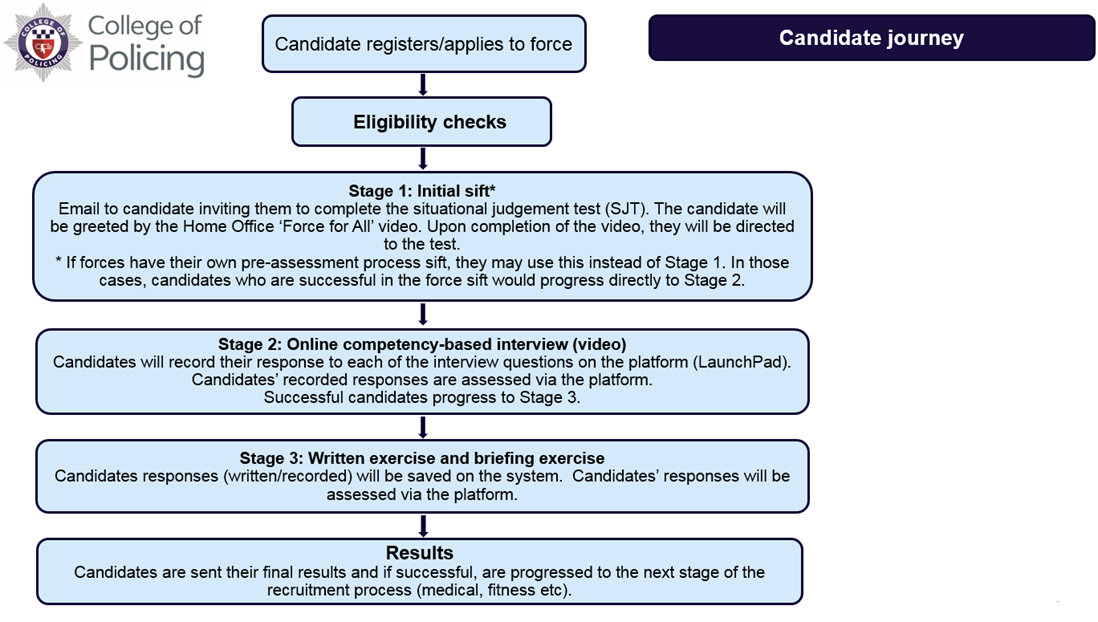 The online assessment process consists of a three-stage approach designed for the efficient assessment and recruitment of police constables.
The three stages are:

Stage 1 – Situational judgement test (SJT)
This test measures your ability to choose the appropriate action in situations similar to those you are likely to face as a police constable. This test will measure your judgement and ability to make effective decisions against the Competency and Values Framework for Policing. You will complete this stage as part of your application process and progress to stage 2 if successful.

Stage 2 – Competency-based interview
You will be asked a series of questions about how you have dealt with specific situations in the past. This is your opportunity to provide some examples of the key competencies and values that are important for police constables. You can use examples from both your work and your personal life. If you have completed stage 1, you will be required to take stage 2 immediately upon completion.

Stage 3 – Written assessment and briefing exercise

Stage 3a – Written assessment
In this exercise, you will assume the role of a police constable and will have to complete an urgent written task for your line manager. You will receive four items of information to help you with this task.
Stage 3b – Briefing exercise
In this exercise, you will assume the role of a police constable and will have responsibility for dealing with some issues presented to you. You will be tasked with providing a response to a number of questions in relation to this issue. You will be provided with preparation materials to consider your answer.
Please note that you will receive and be able to take stages 3a and 3b separately.


Required Technology

You can complete the exercises on any internet-enabled device with a camera (laptop, tablet or phone), but to ensure full compatibility with the online platform, the following should be set up.

Your operating system should be Windows 7 (or higher) or Mac OS 10.11 (or higher).

Your browser should be the latest version of Microsoft Edge, Mozilla Firefox, Google Chrome or Safari (Apple products only).

You should have the latest version of Adobe Flash installed, and you require a webcam and microphone to record responses.

For further information on the recruitment process, please refer to the College's online assessment candidate FAQs or contact Staffordshire Police directly.